Properties
Property
Value
Combat Properties
Armor
12
Resists
energy +12%, earth -12%
Requirements
Level
75
Vocation
sorcerers
General Properties
Name
Velvet Mantle
Item ID
8040
Classification
Armors
Stackable

✗

Weight
28.50 oz.
Trade Properties
Value
Negotiable gp
Sold for
(not bought by NPCs)
Bought for
(not sold by NPCs)
Marketable

✓

Other Properties
Transferable

✓

Version
8.2


July 2, 2008

Status
Active
Help
Notes
The drop was introduced in Update 8.42.This is the best energy reducing armor for sorcerers. This armor was looted on Astera in the first Ferumbras killed in this world, you can see the owners in the image.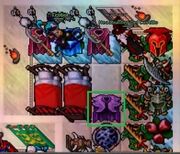 Ad blocker interference detected!
Wikia is a free-to-use site that makes money from advertising. We have a modified experience for viewers using ad blockers

Wikia is not accessible if you've made further modifications. Remove the custom ad blocker rule(s) and the page will load as expected.