Umbral Creation
Talk

0
11,960pages on
this wiki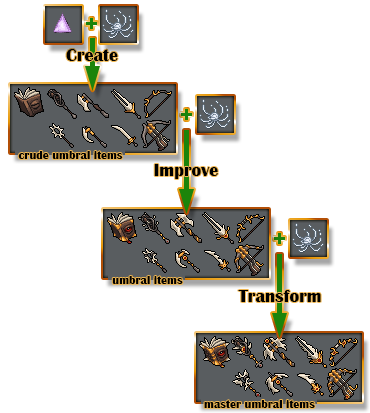 Umbral Creation is a technique, introduced in the Winter Update 2013 which enables characters to create, improve and transform certain Clubs, Swords, Axes, Spellbooks, Bows and Crossbows.
The process
The process consists of creating, improving and transformation, requiring one Dream Matter and 245 Clusters of Solace at minimum.
Creating
To create a crude umbral piece - blade, slayer, axe, chopper, mace, hammer, bow, crossbow, or spellbook -, bring Eruaran a Dream Matter and 20 Clusters of Solace. You can choose any weapon type, no matter your vocation. You won't lose your dream matter any longer if failing, just your clusters.
Improving
The improving step depends on the item you bring. Unlike the first step, no dream matter is required here. Only your crude umbral piece and 75 Clusters of Solace are required to improve your item to umbral state. The chance of failing is higher here, and if so you will lose either your crude piece and keep your cluster or keep your weapon but lose all the required clusters.
Transformation
The transformation step is the most valuable one and will take some effort, but the outcome is tremendous. Bring your umbral equipment piece and 150 Clusters of Solace in order to transform them to master state. If you are unlucky the following things may occur: You lose your umbral item and keep all clusters or your umbral item is downgraded to a crude umbral item and you lose half amount of your cluster (75).
The outcome of each single step is permanent.
Items
Name
Attributes
Weight
Dropped By
Name
Attributes
Weight
Dropped By
Name
Attributes
Weight
Dropped By
Name
Attributes
Weight
Dropped By
Name
Attributes
Weight
Dropped By
Achievements
Umbral Achievements

| Name | Grade | Points | Description | Spoiler |
| --- | --- | --- | --- | --- |
| | | | | |
| --- | --- | --- | --- | --- |
| Umbral Archer | | 6 | You managed to transform, improve and sacrify your bow into a master state and have proven yourself worthy in a nightmarish world. | Obtained by creating an Umbral Master Bow. |
| | | | | |
| --- | --- | --- | --- | --- |
| Umbral Berserker | | 6 | You managed to transform, improve and sacrify your hammer into a master state and have proven yourself worthy in a nightmarish world. | Obtained by creating an Umbral Master Hammer. |
| | | | | |
| --- | --- | --- | --- | --- |
| Umbral Bladelord | | 6 | You managed to transform, improve and sacrify your slayer into a master state and have proven yourself worthy in a nightmarish world. | Obtained by creating an Umbral Master Slayer. |
| | | | | |
| --- | --- | --- | --- | --- |
| Umbral Brawler | | 6 | You managed to transform, improve and sacrify your mace into a master state and have proven yourself worthy in a nightmarish world. | Obtained by creating an Umbral Master Mace. |
| | | | | |
| --- | --- | --- | --- | --- |
| Umbral Executioner | | 6 | You managed to transform, improve and sacrify your chopper into a master state and have proven yourself worthy in a nightmarish world. | Obtained by creating an Umbral Master Chopper. |
| | | | | |
| --- | --- | --- | --- | --- |
| Umbral Harbringer | | 6 | You managed to transform, improve and sacrify your spellbook into a master state and have proven yourself worthy in a nightmarish world. | Obtained by creating an Umbral Master Spellbook. |
| | | | | |
| --- | --- | --- | --- | --- |
| Umbral Headsman | | 6 | You managed to transform, improve and sacrify your axe into a master state and have proven yourself worthy in a nightmarish world. | Obtained by creating an Umbral Master Axe. |
| | | | | |
| --- | --- | --- | --- | --- |
| Umbral Marksman | | 6 | You managed to transform, improve and sacrify your crossbow into a master state and have proven yourself worthy in a nightmarish world. | Obtained by creating an Umbral Master Crossbow. |
| | | | | |
| --- | --- | --- | --- | --- |
| Umbral Swordsman | | 6 | You managed to transform, improve and sacrify your blade into a master state and have proven yourself worthy in a nightmarish world. | Obtained by creating an Umbral Master Blade. |
| | | | | |
| --- | --- | --- | --- | --- |
| Umbral Master | | 8 | You managed to transform, improve and sacrify all kinds of weapons into a master state and have proven yourself worthy in a nightmarish world. Respect! | Obtained by creating all of the Master Umbral Weapons. |