Properties
Property
Value
Combat Properties
Hands
Two
Type
Club
Attack
51
Defense
20
Requirements
Level
85
Vocation
knights
General Properties
Name
Skullcrusher
Item ID
7423
Classification
Club Weapons
Two-Handed Club Weapons
Stackable

✗

Weight
120.00 oz.
Trade Properties
Value
3,000,000 - 8,000,000+ gp
Sold for
(not bought by NPCs)
Bought for
(not sold by NPCs)
Marketable

✓

Other Properties
Usable

✓

Transferable

✓

Imbuable

✓

Imbuing slots
2
Version
8.4


December 10, 2008

Status
Active
Help
Notes
First looted in Tibia was in Chimera by the guild Squad. It has the same Attack and Defense as The Stomper, but is heavier and its level requirement is lower. The skullcrusher can also be seen on Premia, owned by Akragon and on Morta, owned by Tamren Vises.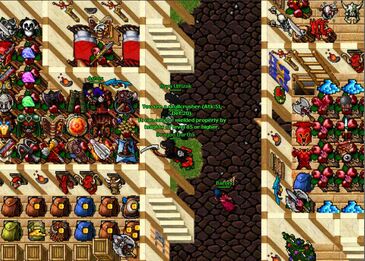 Ad blocker interference detected!
Wikia is a free-to-use site that makes money from advertising. We have a modified experience for viewers using ad blockers

Wikia is not accessible if you've made further modifications. Remove the custom ad blocker rule(s) and the page will load as expected.