Properties
Property
Value
Combat Properties
Health
750
Experience
1050
Est. Max Dmg
300
Summon
(not possible)
Convince
(not possible)
General Properties
Name
Necropharus
Classification
Necromancers
Spawn Type
Rank
Boss
Illusionable

✗

Pushable

?

Pushes

?

Elemental Properties
Physical
100%
Holy
100%
Death
100%
Fire
100%
Energy
100%
Ice
100%
Earth
100%
Drown
100%
Life Drain
100%
Immunity Properties
Paralysable

?

Senses Invis.

?

Behavioural Properties
Walks around
Walks through
Other Properties
Version
7.4


December 14, 2004

Status
Active
Help
Notes
Is the Necromancer's Boss, looks the same as Necromancer.

Click Here to Show/Hide Spoiler Information
Spoiler warning: Quest and/or game spoiling details follow. (
Settings
: hidden content)
Spoiler ends here.
Damage Taken From Elements
Physical

Holy

Death

Fire

Energy

Ice

Earth
Behaviour
Necropharus fights until death.
Strategy
Mages: recommend 50+ they can easly kill it with just Flame Strike .
Knights: Can kill it at level 60+ aswell since it doesn't spawn with other creatures since the Killing in the Name of... Quest so just hit them with your weapon and do Whirlwind Throw or Berserk.
Paladins: Easy for lvl 55+ paladins to kill with some Royal Spears or with some Enchanted Spears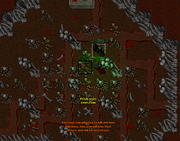 Ad blocker interference detected!
Wikia is a free-to-use site that makes money from advertising. We have a modified experience for viewers using ad blockers

Wikia is not accessible if you've made further modifications. Remove the custom ad blocker rule(s) and the page will load as expected.