Properties
Property
Value
Usage Properties
Words

exura

Mana
20
Cooldown
1 second
Group CD
1 second
Requirement Properties
Vocation
Paladin
Druid
Sorcerer
Premium

✗

Promotion

✗

Level
8
Other Properties
Spell Group
Healing Spells
Cost
0 gp
Version
Unknown.
Status
Active
Help
Notes
A weak, but popular healing spell. It was the only healing spell for knights for many years until Wound Cleansing was introduced in late 2007. The number of hp it can heal depends upon your level and magic level (and is around 1/10th of your UH power). It is useful if you are trying to raise your Magic level or to get rid of Paralysis. Knights can't use it since Winter Update 2010. Since Winter Update 2012 this spell is free. It used to cost 170 gp.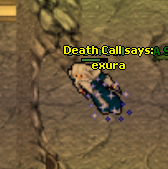 Ad blocker interference detected!
Wikia is a free-to-use site that makes money from advertising. We have a modified experience for viewers using ad blockers

Wikia is not accessible if you've made further modifications. Remove the custom ad blocker rule(s) and the page will load as expected.