.
Lich Hell



Near City:
Liberty Bay
Location:
Vocation(s):
All vocations.
Level & Skills' Requirements
Profit Hourly
Notable Loot
Maps and Pictures

Lich Hell is the coined term for a floor of the Ramoa dungeon. It is haunted by the usual Undead of Ramoa (such as Demon Skeletons, Bonebeasts, etc), as well as Priestesses, Necromancers and of course, Liches. From time to time you may also find Undead Cavebears.
How to get there
To reach Lich Hell it's recommended that you finished the Ramoa part of the The Shattered Isles Quest. Once you've done so you will be able to use the teleporter from Goroma. Once you've entered the teleporter follow these maps.
Warning
If you intend to go here to hunt as a knight, think again. Every creature in this hellhole summons minions and will kite you till worlds end. When you get surrounded, which you will, you won't be able to use spells as you will have 10x priestesses mana draining you.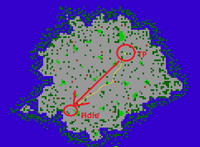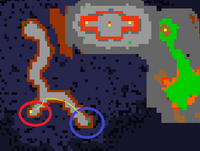 You have entered at the red circle. Walk towards the blue circle.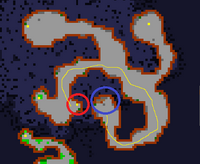 You have entered at the red circle. Walk towards the blue circle. Use a Pick on the dirt around the blue circle to open the hole to Lich Hell.
Click Here to Show/Hide Spoiler Information
Spoiler warning: Quest and/or game spoiling details follow. (
Settings
: hidden content)
The long (optional) part of
The Shattered Isles Quest
takes you here to find a book, which gives clues to get to the next isle.
Spoiler ends here.

See also: Ramoa