Please review this page.

This page may need to be updated for content, grammar, spelling, language, etc.

Please remove this template after the page has been raised to appropriate standards of quality.

Horestis Tomb is a tomb north-west of Ankrahmun. It is comprised of 6 hunting floors and each floor becomes progressively more difficult. It is normally populated with Undead creatures specific to the tomb, e.g. Grave Guards, and with a final boss, Horestis. If Horestis is killed the tomb's creatures will no longer spawn, and Honour Guards will spawn all over the desert between Ankrahmun and Darashia.
It is not known how to repopulate the tomb but it is thought that Honour Guards or Scarabs must be killed in the desert. When the Scarabs are killed a phenomenon called Horestis' Curse may be witnessed: a scorpion sometimes spawns from the scarabs' bodies.
Click Here to Show/Hide Spoiler Information
Spoiler warning: Quest and/or game spoiling details follow. (
Settings
: hidden content)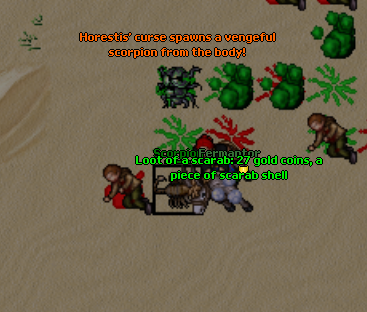 Spoiler ends here.
Creatures in Horestis Tomb when Horestis' Curse is active
Creatures in Horestis Tomb when Horestis' Curse is not active
Maps
This Geography-related article is a stub. You can help TibiaWiki by expanding it.
Reasons for stub: Little useful information here
Ad blocker interference detected!
Wikia is a free-to-use site that makes money from advertising. We have a modified experience for viewers using ad blockers

Wikia is not accessible if you've made further modifications. Remove the custom ad blocker rule(s) and the page will load as expected.