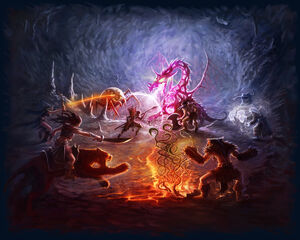 The Flash Client is one of two official Tibia Clients, the other being the Stand-Alone Client. The Flash Client is always activated if the system requirements are met and can be reached through the Account Management page on www.tibia.com . You only need to select a character from the below list by clicking on it's row, then click on the "Play" button to open up another browser window.

They have written it in Flash as compared to C++, in which the older client is written. The C++ Client will still be able to be used. Some information has been released and some community feedback has been given on certain aspects.

Even being a official and supported client, many players of Tibian community are still skeptical about it, but the programmers promise that no changes will be made in the game play, and Tibia will remain Tibia!
One of the most significant benefits is that the client can be customised in so many ways (window positioning, text colours, disable some messages from appearing in game window and/or console like spells or private messages, etc.); you can set just about everything in your own style. The other main benefit is the addition of Action Bars with 120 slots that can be used with hotkeys, besides other preset hotkeys. Also gives the player the ability to set or change hotkeys to other actions like logging out, toggling between offensive/balanced/defensive fighting, toggling chat mode on/off or opening you root container (the main container, usually a backpack, placed in your inventory). Walking can also be set to a different key set (for example WASD, or DZXC or any other combination) with the option "chat off". In general the Flash Client has a better GUI (Graphical User Interface) but worse performance than the Stand-Alone Client.
Tibia Screen
The screen of the Tibia Flash client is divided into several parts:
Advantages/features
Compared to the current client, a few of the advantages and new features will be:
No specific OS or browser required, runs wherever Adobe Flash runs (Windows, Linux, Mac);
No manual installation required (in case you already have Adobe Flash installed, which most people indeed have);
Better self-updating process of the client;
Easier access from internet cafés;
Tighter integration between website (account management, character info pages, spell lists, maps etc.) and game (ingame character);
Possibility to add new graphical options like layers (e.g. adding weather effects, picture below); weather effects have not been added to the game yet.
Moveable widgets - every option can be reached quickly.
The new HUD (picture below) feature which will reduce death probability to many players, especially mages.
Action Bars can be opened on all four sides of the game window. Right-click to add text or a spell. Drag and drop an item on a slot to use with a hotkey. The action bar slots can be clicked with a mouse or assigned to a hotkey.
You can now have up to 12 sets (e.g. one for Druid, one for Knight) which save the positions of your different windows and your hotkeys.
Easily way to change equipment, just have to drag a equipment item on a slot, then click it to put on, or take it off, also can be changed  for another item if have more than one on slots.
Always know the status of your character, in middle of the status bar, you can see the Special Condition that your character is (burning/drowning/drunk/haste/posioned/within protection zone/slowed/hungry/... etc)
Ability of search spells in the general controls options, with filter of vocation, grup (attack, support, healing), premium, level and known.
Access to Character Profile subscreen ingame, that shows (appart froms skills, levels, experience, etc.) the remaining time of regeneration of the food you ate, modifiers of speed (for example, speed levels increased by using haste spell or lost speed levels by suffering paralysis).
Smart-click feature, which makes it able to skip the context menu and quickly use-with, open, attack, talk with any object, item, creature or NPC.
Disadvantages/Weaknesses
The Flash client must redownload the data if you clear your browser's cache.
Even if your browser has cached the client files, it can take a while to load the client.
If for some reason your login fails (the common 'already logged in' problem exists in Flash as well) the Flash client does not reload your character list, you have to reload the entire client to log in.
The Flash equivalent of 'change character' (Ctrl+G in Stand-Alone Client) does not check if you can even log out, which will cause the character change to fail.
The Minimap can be slow to navigate through and it tends to load slowly.
It seems that maps sometimes do not save after exploring a new area. But if you have cookies enabled, your map files will be saved.
There are difficulties with importing maps, usually when overwritting a zone already explored, leading to large black spaces in the minimap.
If there are issues with other Flash products on a player's computer then the Flash Client may also suffer the same issues.
A player cannot log out just using keys. The stand-alone client's Ctrl+Q shortcut will log you out completely, while in the Flash client you must confirm your choice to log out.
It is not always possible to drag items into ones backup because it does not always allow dragging into the space between slots. But has been fixed for almost all cases.
Stacked players appear in the reversed order from the stand-alone client. Instead of seeing the player you will push from a stack, you see the last person you would push from it.
Item animation is different on the Flash client: an item's animation state is based on when it was placed in the game window or when its position changed. On the Stand-Alone Client it is based on a more universal time, producing some inconsistencies between clients. For example: if you place 2 Slime Gobblers down, their animation is unlikely to be synchronized. On the stand-alone client the animation is always perfectly synchronized.
Newlines are ignored when pasting text into the console, while on the Stand-Alone Client they are converted to spaces.
Changes
Some existing features have also changed:
General Controls, Combat Controls, Minimap, Inventory, VIP List, Battle List, Trades, and Containers can be toggled on/off from filters on a sidebar (default: right)
Health, mana, skills, and conditions are now each displayed as bars on one widget (default: top of the playing window; can be moved to 4 sides of window).

Only one skill bar can be shown at a time, by right-clicking and select from menu or through options.

All Skills are now under 'Character Profile' accessed by General Controls or default Ctrl+P.
Stacked items can be moved altogether without using the Ctrl button. Using the Ctrl button will popup a menu to select how many items you want to move. Using the

⇧

 Shift button still moves just one item in the stack.
A secondary chat now allows the ability to monitor (not chat in) a second window.
All chat messages can have their colours customised to one of 12 options.
You can import/export your customised options in an xml file, as compared to a cfg which did not have a built in function to access it.
System requirements
Operating System: Windows 7, Windows Vista, Windows XP
Browser: Internet Explorer 8.0 (or higher), Mozilla Firefox 4 (or higher), Google Chrome
Flash: Adobe Flash Player 11.2 (or higher)
Hardware:

2.6 GHz Intel Pentium 4, AMD Athlon 64 3400+ or 1.6 GHz Intel Core Duo (or higher)
1 GB of RAM
42 MB free space on your hard disk (+ approximately 150 MB for the complete map files)

Internet connection
Note: You can try the Flash client on other operating systems and browsers, but is not ensured that it will work and cipsoft will not take care of problems that appear on non-supported operating systems and browsers.[1]
Official Chronology
Images
CipSoft already released some images about their developing Flash client. They are listed below.
References
Read More
Sources
Ad blocker interference detected!
Wikia is a free-to-use site that makes money from advertising. We have a modified experience for viewers using ad blockers

Wikia is not accessible if you've made further modifications. Remove the custom ad blocker rule(s) and the page will load as expected.