Depot
Talk

0
11,156pages on
this wiki
A Depot is a building where players can store their items in a Locker. Lockers contain a Depot Chest, Inbox, and access to the Market. Every hometown, except Rookgaard and the Island of Destiny, has a depot. There is also a special depot on Travora.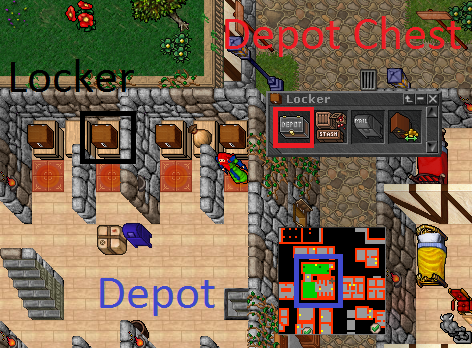 The depot is central to any town and the one place you can usually find the most players. Each depot has a little different style, but they all contain stalls with lockers where one player can access a locker to store their items.
Each city depot is unique. For example, things you put in your Carlin locker will not be available to you in your Thais locker, and vice-versa.
Venore and Kazordoon are currently the only towns with 2 depot buildings, and you can access the same items from either of the two.
This table shows the city that each depot is located in, the Post Officer (who sells Parcels and Letters) for that depot, the number of lockers in that depot, the Map of that depot and the main floor, and the total number of floors.