Properties
Property
Value
Usage Properties
Words

exeta res

Mana
40
Cooldown
2 seconds
Group CD
2 seconds
Requirement Properties
Vocation
Knight
Premium

✓

Promotion

✓

Level
20
Other Properties
Spell Group
Support Spells
Promotion
Cost
2000 gp
Version
6.6


February 18, 2002

Status
Active
Help
Effect
Makes all Creatures nearby change their target to the caster.
Notes
This spell could be dangerous for low levels.
This Spell can only be purchased by Elite Knights
This spell is very useful for blockers because it makes all creatures right next to them change their target and attack the caster of this spell.
Note that the creatures may change targets again, even after being challenged. Also some creatures (e.g. all Pirates) seem to ignore this spell, and not switch to the caster. In reality however the creature just changed target real quick.

Creatures which reward zero experience, such as a deer, are not affected by this spell, nor is it possible to use it in PvP or against summoned creatures.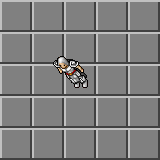 Ad blocker interference detected!
Wikia is a free-to-use site that makes money from advertising. We have a modified experience for viewers using ad blockers

Wikia is not accessible if you've made further modifications. Remove the custom ad blocker rule(s) and the page will load as expected.