Barbarian Arena Quest/Spoiler
Talk

36
11,595pages on
this wiki
   
Warning:

Barbarian Arena Quest


This article may contain quest spoiling information
You may choose to show or hide this information.
Also known as:
The Arena
Reward:
A Bronze/Silver/Gold Goblet (Depending on difficulty). A choice of 1 of the 5 prizes.
Location:
Svargrond
Level required:
0
Level recommended:
30+
Be prepared to face:
The Arena Bosses
Legend:
...
Spoiler
Different levels of the arena host different difficulties and special boss monsters. Each boss must be conquered consecutively to complete a level. Once one level is fully completed the second can be attempted. Only one person can be into a pit at the time. You are teleported away two squares back if the one who is fighting in the pit next to yours is still fighting. You also have a time limit to master the pit, and in case that time runs out, you're out. You have to pay a participation fee to enter the arena.:
Remember, you have to have completed Greenhorn, before you enter Scrapper, and you must have completed Scrapper before you enter the Warlord arena.
There are three levels so far: Greenhorn, Scrapper and Warlord.
Greenhorn
Information
Recommended level: 15 (none required)
Entry fee: 1000 gp
Combatants
Advice
Traps can help deal some damage for lower level characters.
This arena is not very challenging. A low level should have no problems until the 9th, so you should prepare to face Cursed Gladiator and Orcus the Cruel. These are roughly equivalent to their real-world counterparts, Crypt Shambler and Orc Leader.
Rewards
Note: you are only allowed to take two items: one of those is the goblet, the other is an item of your choosing.
Present Box Containing: Piggy Bank, Surprise Bag (Blue), Bar of Chocolate, 10 Candies, Ice Cream Cone (Blue-Barian)
Backpack Containing: 100 Sniper Arrows and 100 Onyx Arrows
Scrapper
Information
Recommended level: 50 (none required)
Entry fee: 5000 gp
Combatants
Rewards
Scrapper Rewards

Name
Attributes
Hands
Level
Weight
Dropped By
Present Box Containing: Baby Seal Doll, Bar of Chocolate, Ice Cream Cone (Chilly Cherry), 10 Candies
Backpack Containing: Silver Great Fireball Rune Emblem, Silver Heavy Magic Missile Rune Emblem, 200 Power Bolts, 100 Onyx Arrows
Warlord Level
Information
Recommended level: 120 (none required)
Entry fee: 10000 gp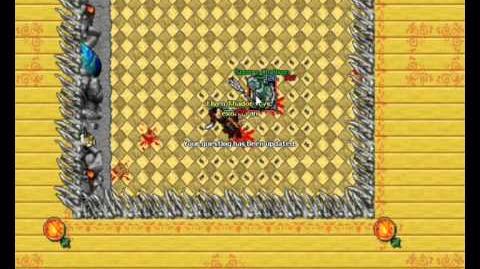 Combatants
Rewards
Warlord Rewards

Name
Attributes
Hands
Level
Weight
Dropped By
Present Box Containing: Panda Teddy, Bar of Chocolate, Ice Cream Cone (Crispy Chocolate Chips), 10 Candies
Backpack Containing: 100 Infernal Bolts, Mastermind Potion, Bullseye Potion, Silver Sudden Death Rune Emblem, Silver Ultimate Healing Rune Emblem